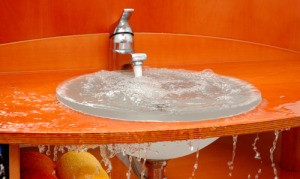 A clogged kitchen or bathroom drain can be exasperating. You may be tempted to solve the problem yourself, but before you do so, we'd like to warn you that DIY drain cleaning is not always as simple as you think. Although there are many retailers who offer products for at-home drain cleaning, these products are frequently insufficient for addressing larger drainage issues that you might be unaware of. Instead of risking further damage, read these reasons why you should call Free Flow, Inc., pipe maintenance professionals with 25 years of experience in solving home drainage problems.
DIY is Time-Consuming

Trying to clear a slow or blocked drain by yourself can become a project that takes hours or even days. You might spend an unnecessarily long time trying to effectively diagnose what's causing the problem in the first place. Even if you do figure out the exact cause, the household products that you use to address it might not be adequate for the severity of blockage or buildup in your pipes. Since these products aren't designed for major drain problems, you may find yourself making repeated efforts in vain. Instead of struggling by yourself with drain issues, call Free Flow, Inc. We will diagnose the problem and take care of it the first time.
You Might Have A Bigger Problem

Without professional techniques at your disposal, it's surprisingly difficult to determine the exact cause of slow or blocked drains. Drain issues might point to a larger problem that requires heavy-duty cleaning. These problems include grime buildup or solid masses that household products can't dissolve. You may not even realize that it is not just one pipe or drain but multiple components that have issues. If these undetected problems go unaddressed, pollutants can build up in your plumbing system, causing foul odors, and your home may be at risk for flooding. At Free Flow, Inc., we will thoroughly examine your plumbing system to make sure that there are not hidden issues lurking in your drains. We will head off the larger problems that could develop later on.
Risk of More Damage

If you're not familiar with professional pipe maintenance equipment and techniques, you could end up doing more damage than you initially set out to repair. Chemicals commonly used by homeowners in an attempt to clear drain blockages can eat away at pipe lining, and you might damage the structural integrity of your pipes if you don't use the appropriate tools. Free Flow, Inc., assesses the material and construction of your pipes to determine which methods we can use to solve your drainage issues. We treat pipes with care and respect so that we solve your problem without creating more issues
Professional Equipment Means Professional Results

At Free Flow, Inc., we have professional techniques at our disposal, and our pipe maintenance professionals receive regular training in order to stay up to date on new technology and methods. We use a comprehensive array of techniques like water jet cutting and smoke testing to give you the best results possible. To learn more about why we can solve the home drainage issues that have been stumping you, call 215-259-5828.